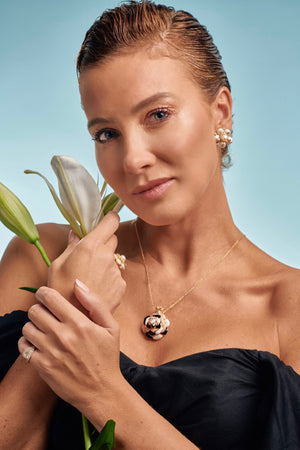 Tooba Gallery
Perfume Bottle Hand Painted Italian Enamel & Cz Diamond Flower Necklace
Sale price Price $150.00 Regular price $225.00
Fragrance Close to Your Heart: The Perfect Blend of Beauty and Aroma in Our Perfume Bottle Necklace!

Inside the pendant , it is possible to drip drops of your favorite aroma and, thus, the scent will accompany you throughout the day.
No more need to carry your big perfume bottle with you. with our Italian Enamel Perfume Bottle Necklace, Now you can simply wear your personal scent around your neck and take advantage of the benefits all day long! Enjoy your exclusive scent anytime, anywhere!
Hand painted Italian with & black Enamel with Cz diamond 18k gold plated perfume bottle Necklace 
Length chain 24 inches + 2 inches extra chain 
Size of pendant 1/5 inches X 1/2 inches